×
Face coverings are recommended.
Learn more
about our enhanced Health and Safety measures to protect our Guests and Team members!
---
* * * Reopen Date: Friday Nov 26, 2021 * * *
Enhanced Health and Safety Measures
As part of our reopening, the health and well-being of our guests, team members and communities is our greatest priority. A safety program based of Federal, State and Local directives providing extra measures has been implemented.
ENHANCED GUEST SAFETY MEASURES:
FACE MASKS: We recommend you wear a face mask but it is not mandatory.
AUDITORIUM SEATING: We will follow all state and local occupancy mandates.
STAGGERED SHOWTIMES: We are staggering showtimes to prevent overcrowding of lobby and restrooms.
CONTACTLESS TICKETING & PAYMENTS: We offer online ticket sales to facilitate contactless experience. We encourage you to purchase tickets online. You are not required to print tickets you have purchased online. You can have the confirmation barcode / QR Code on your phone scanned at the ticket taker's podium. We also offer self service Kiosk to be used with credit card.
SOCIAL DISTANCING STANDARDS: Please remember to maintain distance from other guests and team members before, during and after the movie. Please maintain physical distancing throughout other areas of the building as well. We will monitor and adjust procedures as needed to alleviate congestion.
ROUTINE CLEANING & DISINFECTING: Throughout the day, common areas and highly touched surfaces are frequently cleaned and sanitized. Restrooms are thoroughly disinfected each morning and frequently cleaned and sanitized throughout the day.
SANITIZER: For your convenience, sanitizers have been provided in our common areas.
CONCESSION AREA SAFETY MEASURES:
Concession counters and high touch areas are cleaned and sanitized frequently throughout the day.
Team members are requried to frequently wash their hands.
TEAM MEMBER SAFETY MEASURES:
All team members are recommended to wear face masks but not mandatory.
Team members are required to frequently wash their hands.
All team members would be screened prior to each shift.
---
---
Frequent Movie Goers Club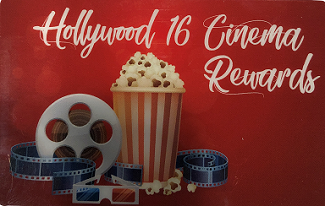 Pick up a Free Rewards card today. Earn valuable points for each purchase. Redeem for FREE soda, FREE popcorn & FREE movie tickets!
---
Gift Cards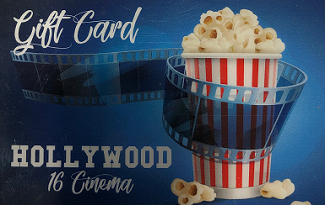 Give the gift of entertainment! Gift Cards are available at all our locations.
---